Today, we're excited to announce the next major release of SightReadingFactory.com. Some of the bigger changes:
Track progress of your usage or your student's usage on the Dashboard
Customizable length of the sight reading exercises (between 8-48 measures!)
You now have the option of random key signatures and time signatures
An even 'wider canvas' for ensemble music (choir, concert band, string orchestra) so the music has better spacing
More time signatures for lower level music
Monitor Your Progress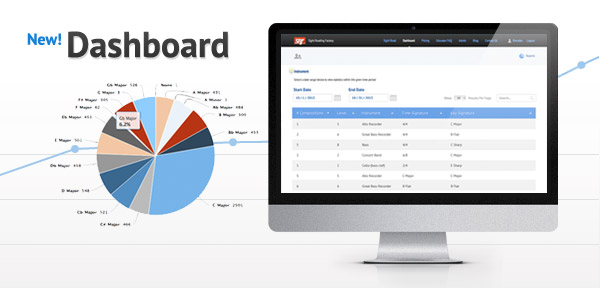 Have you ever wondered, "Which of my students has spent the most time with the site this week?" or, "Have I been sight reading in D Minor enough this year?"
You can now have the answers to those questions with our new Dashboard feature! You can produce reports on how you (or your students) have used the site: report on difficulty level, key signature, time signature, instrument. Limit reports to specific date range. Track average level over time to see if you or your student are taking on more difficult challenges. The session report shows when a student has used the site, and for how long. Educators can even use this report to assign sight reading homework. Visit your Dashboard now and check out stats of your usage of the site dating back to late 2012!
Get more details on the Dashboard here
Random Key and Time Signatures
Now, there's no need to go back to settings over and over when you want to test yourself against a variety key or time signatures. When configuring your music, you can select "Random Suggested Key Signature" to get a random key signature appropriate to your level with each exercise. Select "Random Key Signature" for a wider range of key signatures. Selecting "Random Time Signature" will give you a random time signature appropriate for your selected difficulty level.
User Referral Program
Refer a friend - if they sign up, you'll both get a free month of SightReadingFactory.com! See here for more details.
We Want to Hear from YOU!
We value your feedback and are busy working to constantly update the site. So please contact us and let us know what you would like to see! We have many more exciting features and improvements in the works. Stay tuned!
Share this article