Unlimited Exercises for

Sight Reading

and

Sight Singing Practice

Try It For Free
Interactive Sight Reading at its Best!
SightReadingFactory.com makes practicing the important skill of sight reading easy, effective and fun! This cloud-based service allows you to customize and generate unlimited sight reading examples instantly, on-demand for music educators, students and hobbyists of all ages and abilities.
Sight Reading Factory can be used on virtually any device through the web browser or with our free native app for iOS devices.
Join the thousands of musicians all over the world who use Sight Reading Factory every day.
Try It For Free
Sight Reading Factory in 90 Seconds
Learn how Sight Reading Factory makes sight reading easy for educators, students, and independent musicians alike!
Features
Generates Real Music
The sight reading and sight singing exercises produced are governed by many rules so that they make 'musical sense' in that they are rhythmically, harmonically and tonally appealing. In other words, although the music is computer-generated, it still sounds like real music.
Saves Time and Effort
Save time from having to compose or search for sight reading and sight singing exercises for yourself or for your students to practice. Quickly and easily generate quality sight reading in a fraction of the time you would normally spend.
Customized Sight Reading
The sight reading exercises can be fully customized to your specific needs or the needs of your students. You can select one of the standard difficulty levels or you can customize the exercises by selecting the exact rhythms, range and other attributes such as leaps, accidentals, dynamics and articulations. You can also choose from a large variety of time signatures and all major and minor key signatures. See Feature Focus: Customization for more information and videos on how to customize the sight reading.
Multiple Difficulty Levels
There are multiple levels of difficulty that progress with more complex rhythms, larger leaps, expanded ranges, and increased accidentals. The lower levels are appropriate for beginning level students while the upper levels would be a challenge for the most seasoned musician.
Unlimited Sight Reading Exercises
Subscribers to the Sight Reading Factory® will never again run out of sight reading material to practice. Every time the user clicks 'Generate Sight Reading', a brand new piece of music is composed. This allows the user to generate virtually infinite amounts of unique sight reading exercises for piano, guitar, voice, strings, woodwinds, brass, and percussion.
Classroom Technology and Assessment Tool
Full ensemble sight reading exercises can be projected to the front of the classroom for choir, concert band or orchestra to practice sight reading together. Educators can also use the assignments and recording feature as a tool for assessing their students. See Feature Focus: Assignments for Educators for more information and videos on the assignments and recording assessment feature.
Recent News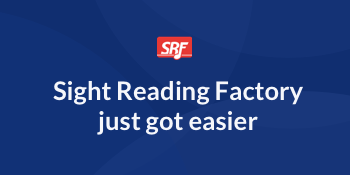 The new and improved mixer and music pages feature a better mobile experience, new features, music that scales and much more!
Sight Reading Available for Over 30 Unique Instruments!
What Our Customers are Saying
"Sight reading is a foundational technique for my choral program. As a result, I have continually looked for websites to be a support tool to our classroom activities. Sight Reading Factory has been a fantastic find! My students love using it. The variety of examples and levels, along with the ability to hear the correct sight reading is priceless. Thank you for offering a quality product that is extremely accessible and affordable."
Ft. Lauderdale, FL
"This program is amazing. I appreciate the revisions made based on feedback from users - all of them are excellent improvements to an already amazing teaching tool. My school went to 1:1 computing this year and so I am really able to assess my students in a comprehensive and meaningful way. Being able to hold them accountable in such an efficient and individualized way is truly incredible."
Chicago, IL
"Great website! Really worth the investment. There's no other resource like this that has a catalog of infinite material that's thoughtfully organized. Thanks."
Singapore
"In seven months I've gone from needing to decipher and memorize tunes, to sight reading basic jazz in live situations. This app saves you the time and energy of finding material to read at your level. Yup, I recommend."
Vancouver, Canada
"I have been a guitarist since 1976 and have had four books published on the guitar – search Amazon books co.uk Steve Bray blues guitar. I started sight reading in the mid 1980's but I kept having to buy books to improve and to find new material those days. This method is the best way to learn sight reading, because you can have a go, then play it back to see how you did, and with a constant supply of new material."
Beverley, UK
Previous
Next