Sight Reading Factory has stock levels of difficulty that were designed to create a smooth progression of difficulty from easy to hard sight reading exercises. Over time we've had requests from many of our users to create levels based on different standards such as a state music association standard or a standard based on criteria from a music exam.
To view the current standards that are available and get information on those standards go to the 'Preferences' tab on your Dashboard.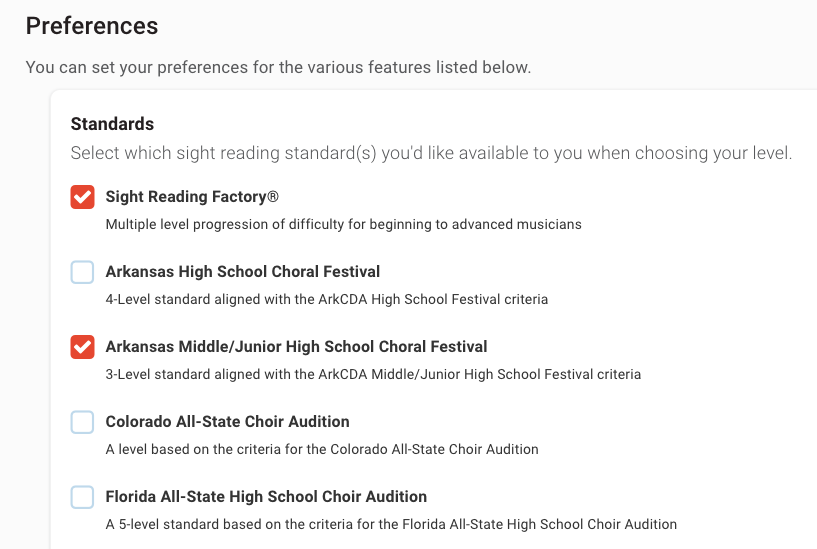 Here you can choose which standard(s) you would like available to you when you are selecting the level of your sight reading.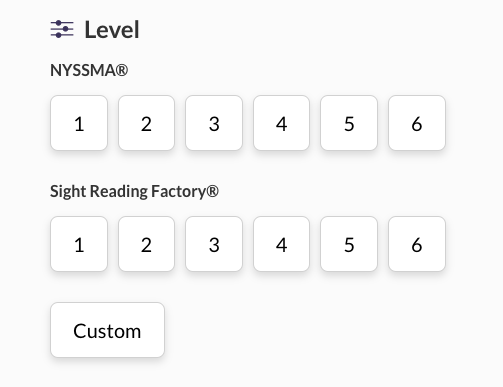 Using Standards as a Teacher with Student Accounts
If you are a music educator using SRF and your students have subscriptions, you can set the exact standard and levels that you'd like your students to have available to them. So you don't have to worry about your students selecting the wrong level. For example if you only want your students in a particular class to practice levels 3-5 of the SRF standard and level 4 of the NYSSMA® standard you would:
From the 'Classes' tab on your Dashboard, click 'Edit' by the class for which you want to set the available levels for your students.
In the 'Levels' section on the Edit Class page, check the boxes of the levels that you would like available to your students when they practice. If you don't see the standard here that you'd like your students to use, you can click the 'Show More Levels' link or you can enable more standards for yourself under the 'Preferences' tab of the Dashboard.

Students are not able to change the standards that are available to them. They see the standards and levels that are configured for the classes into which they are enrolled.
If you don't see a standard implemented on our site and would like to see the standard implemented for you organization please let us know!